Getting a tattoo is a common practice nowadays. Some people get them to show their self-expression and others see them as a form of art. Tattoos are very common in high ranking society and they are no longer a big deal. But, unlike many tattoo lovers, some people think of tattoos as trashy and considers the damage to their bodies.
Common Form Of Tattoo:
A very common form of tattoos are the couple tattoos in which a person permanently brand his body with his partner's name. This specific form of tattoo has more cons than pros. It's always not a good idea to tattooed your partner's name on your body
Many superstitious people believe that if you tattoo your partner's name within half a year you will be broken up. Some people may think that names look silly on bodies. Many couples get each other's name as a tattoo because they consider it a symbol of love and commitment. But it is a stupid and dumb decision because a tattoo is not a real sign of love and commitment. Don't make this mistake because your tattoo is permanent but maybe your relationship is not. Your new partner will definitely hate your ex-name on your body.
is a painful reminder of your past:
A name tattoo is a painful reminder of your past and definitely a cruel reminder of your breakup. It will stop you from moving on in your life and starting a new journey with someone else. Every time you look at the tattoo you will feel the pain of your heartbreak. It is the fact that relationships end no matter how much you love your partner. The worst thing about name tattoo is that you have to see a constant reminder of your former love even after the breakup
Partners name as a tattoo is a more serious commitment:
Many people think that getting your partners name as a tattoo is a more serious commitment than getting married. Always consider the consequences before you decide to get a name tattoo. One of the main reasons is tattoo removal is very expensive nowadays and it will cost you a lot of money. Your friends also may make fun of your tattoo after your breakup.
Instead of choosing your partner's name to choose a symbol or design that is significant to you and your partner. Or you can also get matching tattoos to show your love and commitment. Always give it serious thought before you make this decision.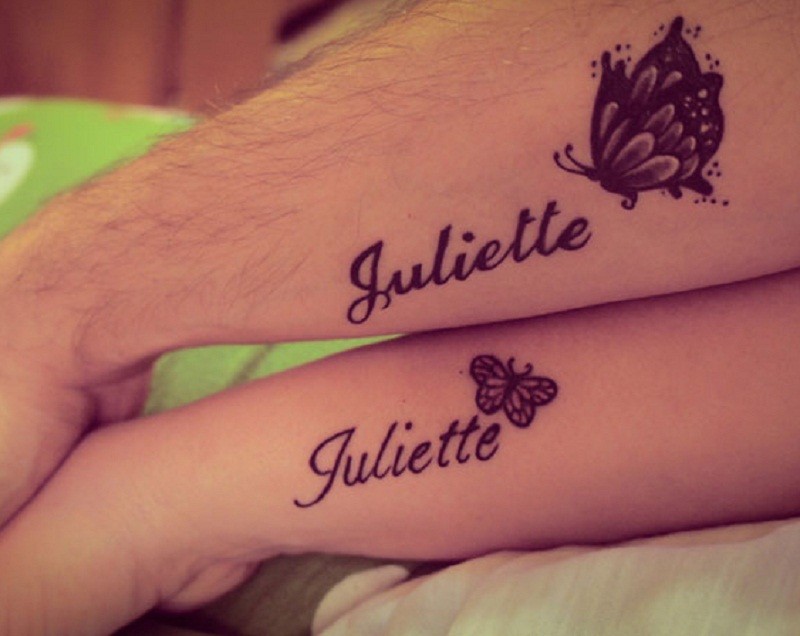 References:
https://www.liveabout.com/is-it-wise-to-get-someones-name-tattooed-on-you-3187331
https://www.racked.com/2018/6/15/17467800/couple-tattoos-ariana-grande-pete-davidson
https://tattoosboygirl.com/